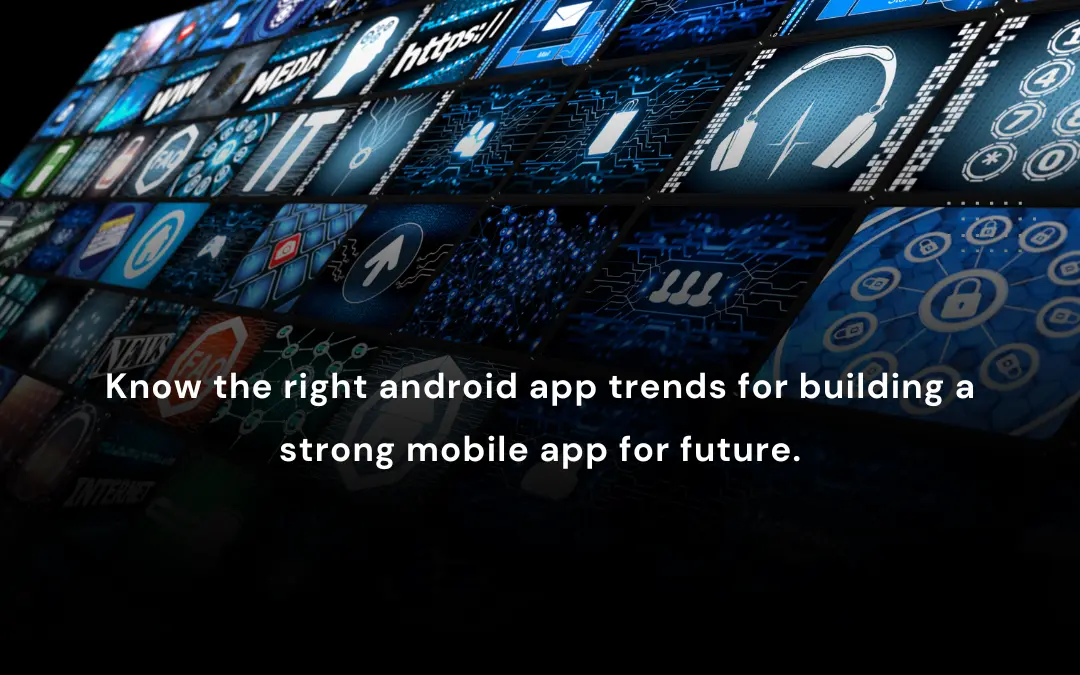 Android mobile app development in India has come a long way, bringing about a revolutionary transformation in the mobile app development industry. Started back in 2008, the Android smartphone market is now hovering around 85% of the market share with about 3.4 million applications on the play store.
Before you take a plunge into exploring mobile app development in India or hiring app developers to turn your dream into a reality, it is crucial to understand the Android mobile app development trends and their implications of the ecosystem. It is important to keep up with the trends by partnering with a top mobile app development company.
Let us now take a look at Android app development trends 2023
Chatbot/ Assistant: To provide smoother customer experience, companies have started using AI/ML powered chatbots that facilitates 24/7 in-app customer support. Mobile app development has made chatbots easy to develop that can solve regular queries of the customer while the complex ones can be routed to human teams. The later trend in android mobile app dev elopement is voice- enabled chatbots that entirely run on Speech-to-Text and Text-to-Speech services. Operational efficiency can be greatly achieved with chatbots. Partner with one of the top mobile app development companies in India to leverage the power of mobile app technology to build chatbots for your business.
IOT (Internet of Things): In the recent years, smartphones have become the core point of our regular life as they store complete data about emails, meetings, contacts and much more. With the advent of mobile app development, smart phones have also become the connecting center of smart gadgets like sports bands, smartwatches, smart TV's and many other wearables. Some of the best app building companies are already working on next-gen IOT technology to make lives easier for people. With the reduced prices, smart gadgets are now becoming cost-effective and easily accessible for household. If we look at the future of mobile app development in IOT, there will be 75.44 billion connected gadgets globally by 2025 making IOT an up-comping trend, you should look for.
Blockchain Technology: Decentralized mobile app development which is secure in authentication and provides complete transparency is what app developers are aiming for with the blockchain technology in Android mobile app development in India and aboard. Swift contract based software apps make online payments hassle-free and safe while also allowing the app users to deal smartly in cryptocurrency. It also utilizes strong security protocols. Blockchain is thus a perfect mobile app development option particularly for financial sectors like banks, currency exchange and more.
Instant Apps: Android Instant Apps are quite easy to use and share. App developers can convert existing apps into Instant Apps where users can access content from an app without installing it. This will save the user's time and also free up space on their android device. If you partner with a custom application development company, you can leverage the power of Instant Apps, particularly for e-commerce businesses and games, etc.
Machine Learning and AI: Since the inception of cloud computing, the way businesses work has changed drastically. You can create AI models that can augment regular procedures or perform tasks quite easily. Big data processing, analytics, software automation can all be done by AI/ML integration to jump on the ever-increasing on-demand mobile app field which is quite a growing trend in the mobile application industry. Partnering with the right mobile app development company in India, you can efficiently utilize AI/ML on smart devices without consuming the processor.
Beacon: In recent times , a lot of businesses use Beacon technology to make location-based search more practical and useful for customers. It helps businesses send notification related to nearby hotels, offers and more to the targeted customers. With this, the integration of the technology into the mobile android apps is becoming quite popular. The greatest boon of incorporating beacon tech in your mobile app development is that it is quite affordable and provides the right amount of leads and sales.
Android Wearables: Android wearables is a trend that is here to stay. There has been a significant demand for android wearable since the rising popularity of gadgets like smartwatches, etc. With the recent mobile app development in India, you can make use of Android SDK with exceptional functionality and design. Also, app developers can use Android studio to test the application with multiple screen shapes and sizes after introducing features like WI-Fi, easy navigation, wrist gestures and single button click features. If your business is related to sports, healthcare and other related sectors, you can catapult it to the next level by leveraging the wearable android app development.
5G technology: 5G technology has changed the way we use the internet. It is much quicker with high radio frequency and the speed that goes around 100 GBPS. It reaches the superiority of data transmission using around 1.4 billion mobile gadgets worldwide. You can very well leverage the 5G technology to boost your business in multiple ways. Connect with a mobile application development service company to make the best of 5G technology for your business.
Mobile Ecommerce: With the recent advent of android smartphones, eCommerce mobile applications produce more than half of the revenues in the industry. It is important to create a successful mobile e-commerce app with a top mobile app development company. Along with that, another factor to consider is top of the line personalization and recommendation algorithms that can provide the best customer experience along with increasing the conversion rate.
Mobile Wallets: Mobile wallets have been a revolutionary transformation in the way people make payments. Particularly, post covid, mobile wallets are booming. A lot of industries choose mobile wallets to enhance their overall business experiences. Hiring a proper app development agency is important if you want to build a mobile wallet that is perfectly suitable for your business. It minimizes human efforts by accurate and improved feasibility for easy and secure financial transactions. Bee Logical, being one of the top mobile app development companies in India, will provide you with seamless services for developing mobile wallets for your business.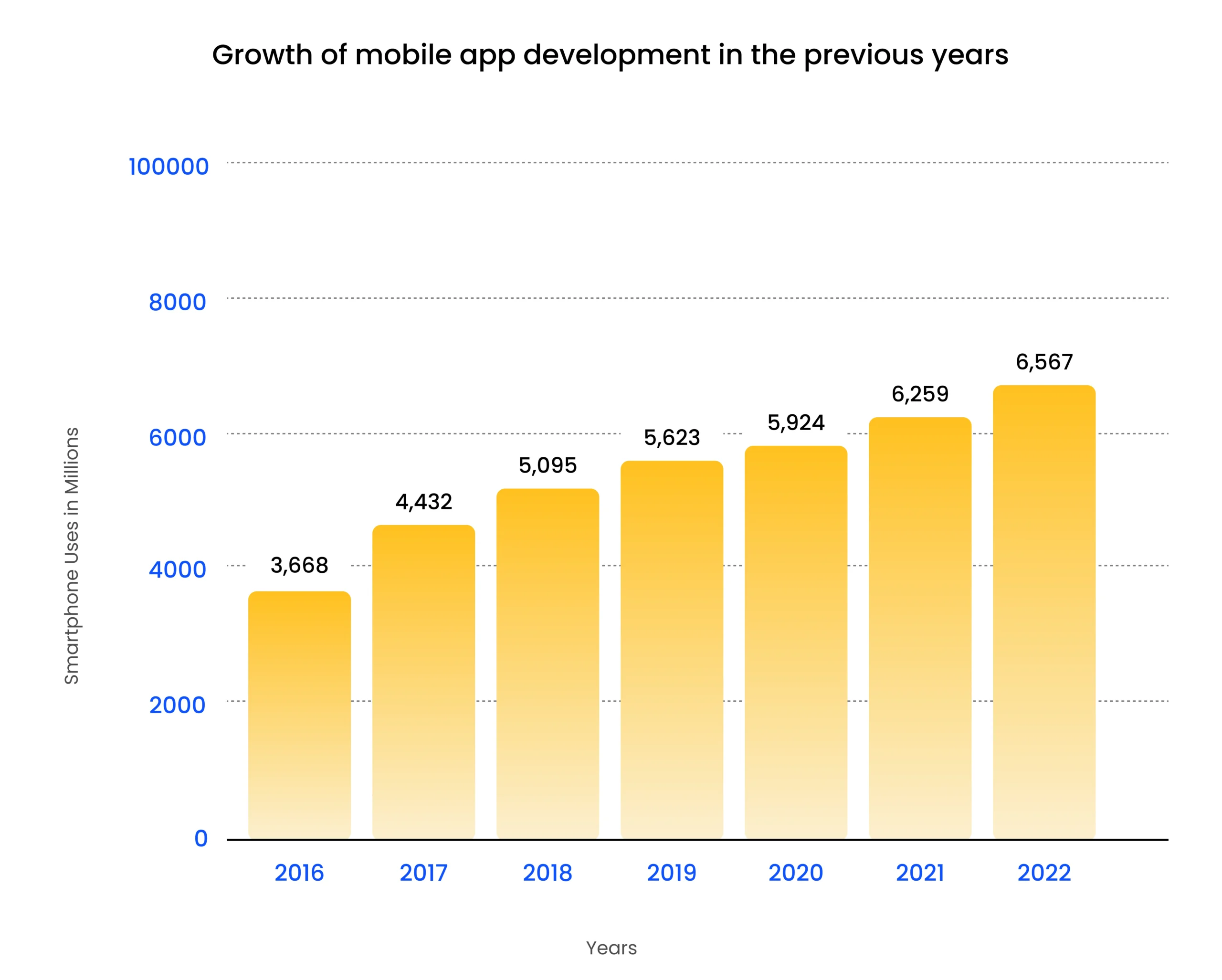 Conclusion
Digital transformation is the future of technology. Partnering with a top app development company is important for your business to leverage the benefits of digital transformation. In the ever-changing times, it is important to keep up with the recent mobile app development trends to keep your business afloat in the competitive market. With this blog, we hope you get an overview of the mobile app development trends in India.